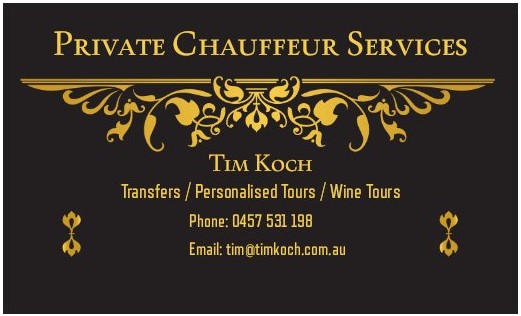 Private Chauffeur Services
Tim is an accredited driver with experience in the South Australian tourism industry and has a South Australian family history dating back to 1839.
A modern, top of the range Volkswagen Tiguan is provided for customised services to suit your individual needs. Up to 4 persons are transported in comfort with features including leather seats and a panoramic sunroof.
---
Transfers
Transfers are available to the airport, from accommodation to tour pickup points, for weddings, parties, lunches or other requirements.
---
Personalised Tours
With local knowledge Tim provides tailored tours in and around Adelaide and the surrounding areas.
---
Wine Tours
South Australia is renowned for its wine growing regions with many cellar doors to choose from. As an experienced wine tour guide Tim provides wine tours tailored to your needs and to the regions of your choice. Tim's family is noted for planting the oldest producing Mourvèdre vines in the world planted at Rowland Flat in 1853.
---
Contact
Quotes are available on request and based on a simple hourly rate irrespective of the number of passengers.
Name:
Email:
Phone:
Comments:
How did you find out about me?
---
Tim Koch
Mobile: 0457 531 198